In this issue, we follow leads from our previous investigations on bonyads and the Khamenei family. This has helped us further identify the Iranian clans who run the country's political business empires. Highlights of our latest findings include:
1. Iran is run by a network of powerful clans who are connected through marriage, shared business interests and common allegiances to the IRGC and major bonyads.
Political Business Empires
2. Each clan fosters connections to high politics, state-funded media or charities and lucrative industries, appointing friends and family members to strategic positions whenever possible.
Mohsen Rezaei and Family at Tabnak News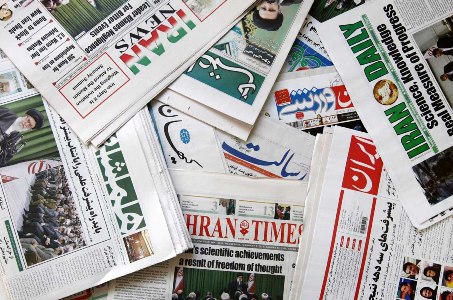 3. State-run media is an especially powerful tool. The clans own major news agencies like Tabnak (Mohsen Rezaei), Fars News (Seyyed Nezalmodin Mousavi) or newspapers like Hamshahri (Qalibaf), Khorasan (Mohammad Saeed Ahdian) and Iran (the Khameneis). They use these media outlets, which are mostly funded by taxpayers, to attack their political or business rivals or to dispel corruption allegations.
4. Those with business activities in the media sphere often also run the institutions that control censorship boards and limit press freedom. This further empowers them to eliminate critics.
Motahari Family Interests in Business and the Media
5. In the case of Khorasan newspaper, the Khamenei clan used religious courts to remove the publication's reformist editor-in-chief and replace him with clan member Mohammad Saeed Ahdian.
Khamenei Family Interests in Media
6. Tehran MP Seyyed Nezalmodin Mousavi, who directs the regulatory Muslim Journalists Association, used his clout in several media outlets to win a seat in the Majles.
Mousavi's Roles in Politics, Bonyads and the Media
7. Other clans, like the Dastgheibs and the Tajgardoons, have so much power in their respective provinces that they do not need to own the media to silence their opponents.
The Dastgheib Family Empire
8. Both the Dastgheibs and the Tajgardoons have reportedly intimidated their critics with the help of local authorities.
The Immense Web of Gholamreza Tajgardoon
9. Well-known political figures like IRGC founder Mohsen Rezaei use their clan's clout to expand control over unelected political bodies.
Mohsen Rezaei's Complete Network
10. Rezaei appoints his friends and relatives to the Expediency Council, then uses their votes to veto Majles bills that clash with his own interests.
Mohsen Rezaei's Bloc in the Expediency Council
The Takeaway: This dynamic is set up to help the clans stay in charge at the expense of the public. Conflict of interest laws are weak, and the government institutions intended to uphold them, such as the Majles, the judiciary, or the Tehran municipality, are under the control of the same clans who continuously break the rules.