Many of Iran's most prominent political figures distanced themselves from the Internet blackout that crippled communications in Iran last November amid violent countrywide protests. We at Doublethink have mapped who is responsible for managing and overseeing Iran's Internet infrastructure. The results reveal a complicated network of unqualified, ideologically motivated government overseers and bonyad-linked consortia.
---
Government oversight
The Supreme Council of Cyberspace is tasked with supervising the internet and making decisions about the harmful aspects of Internet use and countering them. For instance, the council believes that there should be different levels of access to unrestricted internet and that there should be legal VPNs available for certain groups of people to bypass filtering.
There is another organization called "the Committee to Determine Instances of Criminal Content," which is headed by the Attorney-General of Iran. This committee is in charge of monitoring the internet and deciding what gets filtered. Its members include: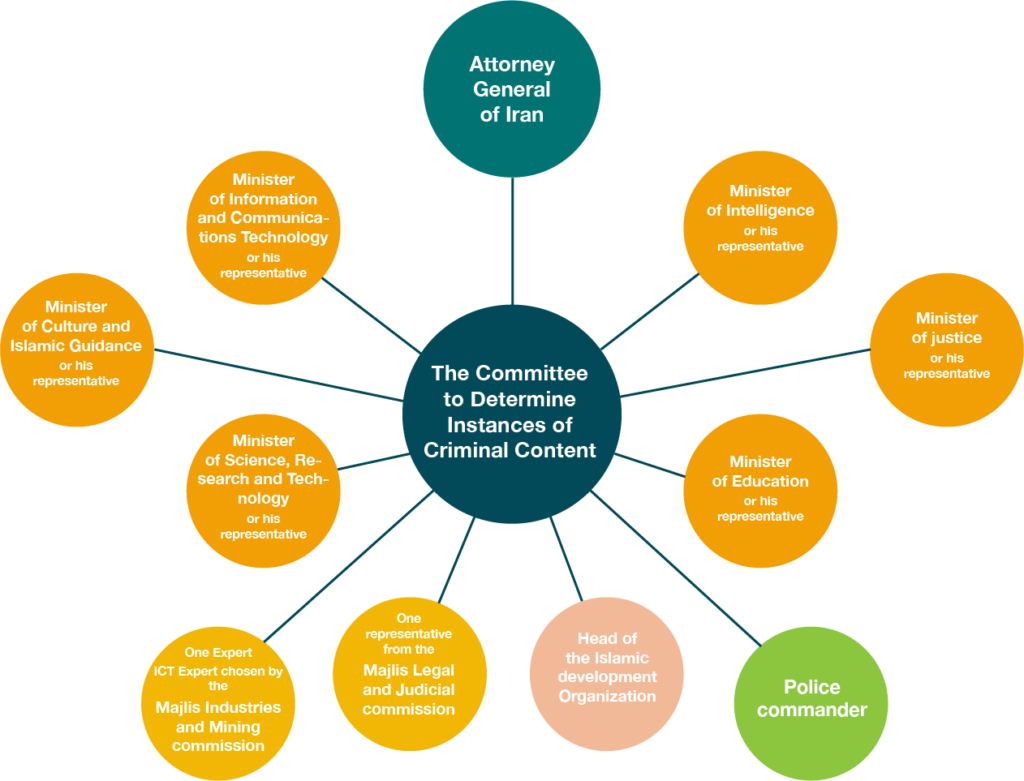 Private sector
Additionally, most of the following ISP providers are owned by one of two privately-owned consortia. (See charts below).
Pars Giti Ertebat Co, a consortium consisting of the following 11 companies that offer high-speed Internet (PAP):
Dadeh Gostar-e Asr-e Novin (DGA Novin) aka Hi Web in which EIKO has a 6 percent stake
Asre Enteqal Dadeha (AsreTelecom)
Sabanet affiliation uncertain
Asiatech Data Transfer, a subsidiary of the IRGC's Bonyad Taavon Sepah-owned Fater Kowsaran Jonoub. However its shareholders include seven individuals and two companies, Atieh Madaran Investment and Andisheh Atieh Madaran Management Services, each owning 10 percent of Asiatech shares.
Laser Telecommunication, which we believe is affiliated with Bonyad Taavon Sepah (BTS)
Pars Online, which has been purchased by Hi Web in which EIKO has a 6 percent share.
Fan Ava Data Processing (BTS)
Pishgaman Telecommunications Development
Shatel Information and Communication Technology Group (Aria Rasaneh Tadbir)
Kara Amin Communications, which is owned by the bankrupted companies Mersad Shiraz-based Electronics and Iran Telecommunication Industries Co (ITI)
Raham Datak Data Transfer Network owned by Tamin Investment Co
Atieh Madaran Investment, Andisheh Atieh Madaran Management Services and Atieh brokerage, whose previous board members have links to BTS companies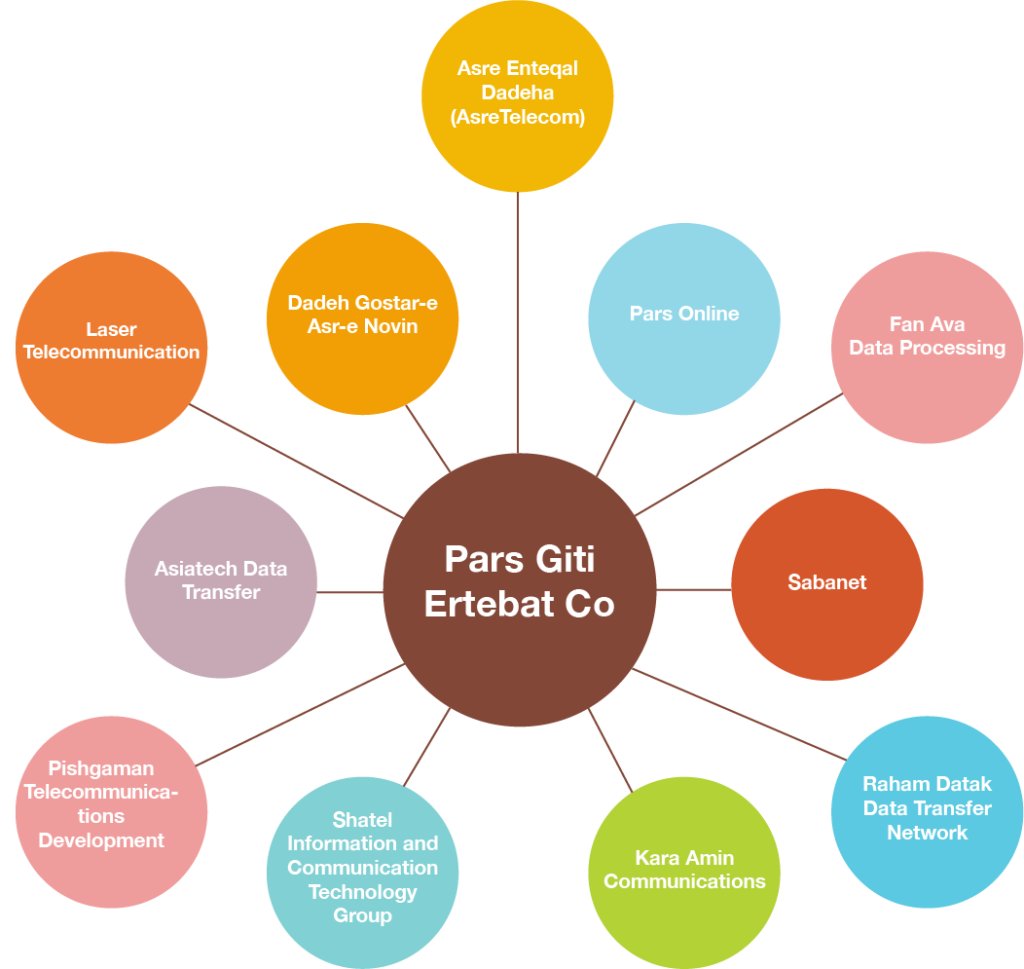 2. Rayan Tadbir Co, a consortium of the following seven FCP companies:
Pars Online, which has been purchased by Hi-Web in which the EIKO bonyad has a 6 percent share.
Pishgaman Telecommunications Development
Sabanet
Shatel Information and Communication Technology Group (Aria Rasaneh Tadbir)
Dadeh Gostar-e Asr-e Novin (DGA Novin) – a.k.a. Hi Web in which the EIKO bonyad has a 6 percent stake
Asiatech Data Transfer, which is a subsidiary of BTS-owned Fater Kowsaran Jonoub
Mabna Telecom