This post is also available in: فارسی (Persian)
Clan: Larijani and Motahari
Region: Tehran
Main Fields of Activity: Publishing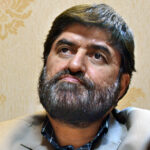 Outspoken Tehran MP Ali Motahari is known for his fiery speeches and unrelenting criticism of Iran's conservative leaders, including Supreme Leader Ayatollah Ali Khamenei. But an examination of his family ties and business holdings shows Motahari to be in collusion with the same individuals whom he publicly criticizes.

Aside from his political activities Motahari invests in the publishing industry, in which he and his family own three companies: The Motahari Bonyad, which publishes and promotes the works of Motahari's father, the late influential cleric Morteza Motahari; Sadra Publishing House, which publishes works written by Motahari himself; and Fajr Printing House, a company wholly owned by the Motahari family. Together, these three publishing houses employ most of Motahari's relatives.
Motahari Family Business Interests
In addition, Motahari's son Morteza is a board member at Shahr Publishing Company, a major media company owned by the Tehran Municipality.

Motahari's mother and sisters all hold managing positions at Sadra Publishing House. One of his sisters, Farideh, is married to outgoing Parliament Speaker Ali Larijani, who also dabbled in publishing. For example, Larijani was a board member at Book City, a privately held bookseller co-owned by the Khamenei family, from 2004 to 2007. (After 11 years as speaker, Larijani did not participate in the February election. Motahari was among the top contenders for his position.)

Last summer, Motahari criticized Larijani for prompting an aggressive anti-corruption probe that strengthened the judiciary's power to prosecute economic crimes. The initiative, sanctioned by Khamenei, was widely seen as a knee-jerk reaction to scores of high-profile embezzlement cases that embarrassed the government in recent years. (For more on how the government uses the justice system to deflect public attention from systemic corruption, please see our Deep Dive Into Bonyads and How They Work.)

This post is also available in: فارسی (Persian)