This post is also available in: فارسی (Persian)
Clan: Khamenei
Region: Tehran
Main Fields of Activity: Publishing
A prominent newspaper editor who is also a family relative of Ali Khamenei benefited from the forced takeover of reformist media by courts close to the Supreme Leader's Office.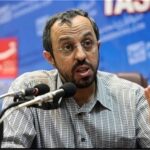 Parliamentary elections took place in Iran in February. Among the candidates running for a seat was the publisher of Khorasan Daily, a formerly reformist newspaper whose editorial independence was severely curtailed 29 years ago.
The candidate, Mohammad Saeed Ahdian, is a family relative of Supreme Leader Ali Khamenei. His steady rise to power at Khorasan newspaper coincides with a systematic crackdown that has brought key media institutions under the control of Khamenei's inner circle.

Khamenei Family Role in Media, by Industry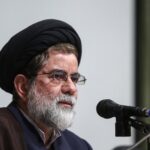 In 1991, Khorasan published an editorial criticizing policy changes implemented by Khamenei in the two years following Ayatollah Ruhollah Khomeini's death. The paper's editor-in-chief, Hojjatoleslam Abolfazl Mousavian, was subsequently convicted of "insulting the Supreme Leader." This conviction was a departure from legal precedent at the time, but it has since paved the way for extending the control that Khamenei's office has had over the media.
The clerical court eventually sentenced Mousavian to 20 lashes, handed him a suspended prison sentence and forced him to relocate to the seminary city of Qom.
The decision to try Mousavian's case in a clerical court rather than a press court (a special court that handles media-related cases) was also a departure from legal precedent at the time. In the ensuing years, this case has become the new precedent for how Khamenei consolidates the judiciary to silence those who publicly oppose his policies. (For a detailed study of how this unfolded, see A Decade of Press Cases and Documents by Vida Shahrokhi.)
When the Culture Ministry—then headed by Mohammad Khatami—attempted to defend Mousavian, pointing out that the Special Court was acting in contravention of the constitution, "the Court asserted that its authority superseded any such considerations," according to Columbia University's Iran studies expert and historian, Elton L. Daniel.
There is no record of who replaced Mousavian. However, in 2004 (Persian year 1383) the newspaper's publishing license was transferred to Khorasan Artistic and Cultural Institute, an organization that was founded that year. Ahdian, CEO of Khorasan Artistic and Cultural Institute, has also been the newspaper's editor-in-chief ever since.
Conflict of Interest
Corporate records further show that Ahdian serves as board chairman of Khorasan Press House, a regulatory body that oversees the publishing industry. Khorasan Press House is one of two media regulators controlled by members of the Khamenei clan. Dominance of publishing companies as well as the political institutions that oversee them effectively gives the Khameneis a monopoly in this vital cultural sector.
Ahdian is related to Khamenei through the supreme leader's wife Mansoureh Khojasteh Baqerzadeh, who is his maternal aunt.
This post is also available in: فارسی (Persian)