This post is also available in: فارسی (Persian)
IRGC mastermind Mohsen Rezaei forms the epicenter of several powerful networks whose members are in key positions in the Expediency Council, a 50-member body with the power to make executive decisions on behalf of Iran's supreme leader, Ayatollah Ali Khamenei. Aside from holding senior posts in government and the judiciary, Rezaei's family members and close associates control bonyads and charities, major sports institutions, banks, and media outlets. Many hold several of these positions at once. A close look at Rezaei's history of political appointments and business associations reveals a calculated effort to expand his clan's clout.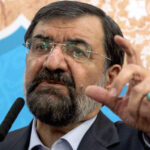 As one of the founding members of the Islamic Revolutionary Guard Corps (IRGC), Mohsen Rezaei played an instrumental role in structuring it. During his time as IRGC commander in chief from 1981 to 1997, Rezaei created the IRGC ground, air, and naval forces. He also founded and briefly headed its main financial and engineering arm, Khatam-al Anbia.
Rezaei recently revealed himself as the main architect of the IRGC's elite Quds Force. This happened following the 2020 assassination of Qasem Soleimani by US forces in Iraq, when Rezaei appeared on the state channel IRIB3, in full military uniform, to discuss the incident. In the interview, Rezaei said he was the one who had suggested the creation of the Quds Force to Khamenei.
"I said if we want to pursue security (objectives) in the region . . . giving (the organization) a name will make sure that no one thinks we are carrying out covert affairs," Rezaei said. In the same television appearance, Rezaei revealed that he was involved in planning a retaliatory attack on US interests and monitoring US military bases.
The Complete Network of Mohsen Rezaei
Rezaei was also the architect of the Islamic Republic's first intelligence agencies, which later turned into the Intelligence Ministry of Iran (VEVAK) and the IRGC Intelligence Organization. In the 1980s, Rezaei used this intelligence apparatus to hunt down anyone deemed counterrevolutionary. By his own admission, he was involved in bloody crackdowns in Kurdistan Province and Sistan and Baluchistan Province; he also took part in neutralizing attempted military coups, including the 1980 Nojeh coup d'état attempt, according to the Alef news website.
In 1997, Rezaei was appointed secretary of the Expediency Council (EC), a position in which he still serves. He remains one of Khamenei's military advisors on Syria and Iraq.
Rezaei has had one failed Majles run in 1999 and three failed presidential bids in 2005, 2009 and 2015.
Bonyad and Charities
Rezaei is the board chairman of the International Jihadi Headquarters for the Empowerment of the Country's Underprivileged which, according to its articles of incorporation, was founded to work alongside major bonyads like EIKO, the Imam Khomeini Relief Fund (IKRF), the Red Crescent, and the Welfare Organization of Iran (Tamin). He is also the board chairman of Iran Ayandeh NGO, which promotes Islamic Republic values through e-publications and online content.
The network is particularly active in Sobh Qarib Iranian Foundation, which Rezaei also chairs. The organization promotes Sacred Defense values and Khamenei's teachings, in addition to operating as a news website.
Rezaei was also involved with Ahmad Rezaei Charity and Imam Hassan Asgari Cultural, Research, Educational and Artistic Institute. The latter charity belongs to the Kharrazi clan, who are related to Khamenei through marriage.
Mohsen Rezaei's wife, Masoumeh Khadang, runs the Tahaye Fatemeh charity. Mohsen Rezaei's oldest daughter, Sara, sits on its board.
Political Marriages
Rezaei's eldest son, Ahmad, married four times. His last marriage was to Fatemeh Seyfollahi, the daughter of one of Rezaei's close friends Reza Seyfollahi. Seyfollahi is the founder of the IRGC's Isfahan branch and one of the students who took over the US Embassy following the 1979 Revolution. Until 2018, Seyfollahi was the social and political deputy of Iran's National Security Council and was involved in the investigation of former president Hashemi Rafsanjani's death. He later received a position in the Expediency Council.
Meanwhile, Rezaei's younger son Ali married into the Khomeini family. His wife, Hoda Tabatabaei, is the great-granddaughter of Khomeini. Hoda's mother, Leyli Brooujerdi, is the head of the Women and Youth Committee of the Expediency Council. Hoda is related to Imam Mousa Sadr through her father's side of the family.
Rezaei's daughter Sara is married to Rouhollah Raisi, a prosecutor and investigator in the Iranian judiciary.
Mohsen Rezaei's Expediency Council Connections
(Mouse over the dots on to see the information)
The Rezaei Bloc in the Expediency Council
In his 23 years as secretary of the Expediency Council, Rezaei has bestowed council positions on his family members, relatives and close friends. The Council can override legislation passed by the Majles, Iran's parliament.
The more seats in the Council he controls, the more power Rezaei has to overturn laws that are unfavorable to his interests. Rezaei was one of the main opponents of a bill incorporating anti–money laundering practices into Iran's banking standards, as recommended by the Financial Action Task Force (FATF), an international watchdog. This January, the Expediency Council rejected the bill, which would have been a step towards the easing of global banking restrictions on Iran.
The Son Who Defected
Rezaei's oldest son, Ahmad Rezaei, defected to the US in 1998. During his time in the US, Ahmad made a series of revelations about Iran's ruling elites. He alleged in interviews that Khamenei was directly involved in plotting assassinations and terrorist attacks abroad. Ahmad also said he and his father attended secret training in Lebanon in preparation for the 1994 bombing of AMIA, a Jewish cultural center in Argentina. The suicide attack, which claimed 85 lives, is considered Argentina's largest terrorist attack to date. Following Ahmad's revelations, Interpol issued red notices for Rezaei and a number of other high-ranking Iranian officials for their alleged involvement in the bombing.
At the time of this defection, Rezaei disowned his son. However, in a 2007 televised interview Rezaei revealed that Ahmad had returned to Iran in 2006 and had been living and working in the country.
Despite his defection and the state secrets that he gave away, Ahmad Rezaei did not suffer any consequences upon his return. Other defectors who returned to Iran have faced harsh repercussions. Nuclear scientist Shahram Amiri , who disappeared in Saudi Arabia in 2009 and resurfaced at the Iran interests section of the Embassy of Pakistan in Washington, DC, a year later, received a hero's welcome upon his 2010 return to Iran but was immediately jailed and finally executed in 2016.
Mohsen Rezaei offered mitigating explanations about his son's defection. Mohsen had posted these explanations on his website, which has since been removed but is still archived on other web pages. In these posts, Mohsen claimed that a distant relative who worked at NASA had lured Ahmad to the US with the promise of a job and higher education, and that Ahmad had left for America without informing anyone.
In the US, the FBI allegedly summoned Ahmad and interrogated him. "During the interrogation, they gave him [Ahmad] accurate information about his father's place of work and where his sisters go to school to pressure him," Mohsen wrote. "They told him he must inform the police whenever he wants to leave the house. Ahmad was put in a tough situation. . . . Finally, they told him the only way to end the uncertainty surrounding his situation was to participate in interviews against the Islamic Republic. . . . Under these circumstances Ahmad gives three interviews in one month and then maintained his silence for the rest of his life."
Mohsen claims that his son had turned down counterrevolutionaries who reached out in the aftermath of the 2009 election, stressing that "during the 14 years Ahmad lived abroad . . . he was not in contact with any counterrevolutionary groups and always hated counterrevolutionary groups especially the MEK, which he considered murderers of the Iranian nation."
Mohsen also alleged that his son had turned down collaboration with "counter-revolutionaries" and uncovered a financial scheme benefitting the Mojahedin-e Khalgh (MEK), an exiled militant organization, during his time abroad.
Ahmad was found dead in a hotel room in the United Arab Emirates in 2011. His death coincided with an explosion at a military base in Iran in which 17 IRGC members were killed, including Hassan (Tehrani) Moghaddam, the designer of Iran's ballistic missile program. At the time, media reports hinted at possible Israeli involvement in both incidents.
At the time of his death, Ahmad was using a US passport under the name Tom J. Anderson. "Ahmad was always proud of being Iranian, even though, towards the end of his life and for security reasons he was forced to use a foreign passport and an alias," his father wrote. "But he never changed his Iranian citizenship and remained an Iranian until the end."
This post is also available in: فارسی (Persian)