The 24/7 ennui of Iran's English-language website and video streamer
"FM Zarif: US economic terrorism, pressure failed to break Iranians' ironclad resilience."
That was the headline most often featured atop the website of Press TV, the Islamic Republic's international broadcast service, in the day-and-a-half leading up to Nowruz, the Iranian New Year. Indeed, Mohammad Javad Zarif, Iran's foreign minister, had made his comments—"[Iran is] standing up to [a] modern-day state terrorist who murdered the pioneers of our defense and scientific advancement"—in a video message intended to mark the holiday. Dedicated followers of the site might well have heard an echo. Eleven weeks earlier, Press TV had greeted the Western world's New Year's Eve with a banner headline highlighting comments made on camera by Iran's president: "Rouhani: Iranians . . . will avenge assassination of Gen. Soleimani, his companions."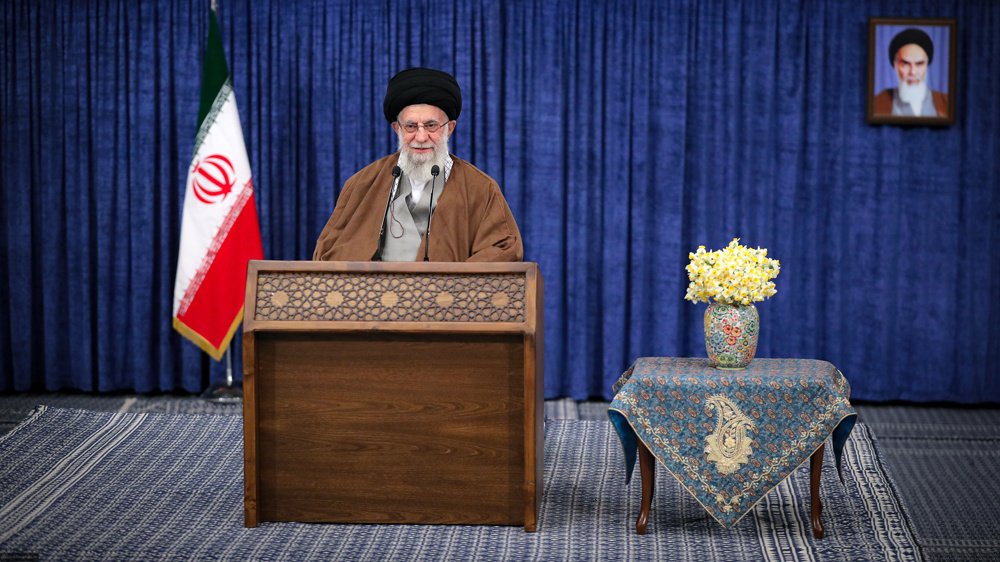 On Nowruz itself, the Press TV celebration went into full swing with the headline "Iran begins 'year of production, support and elimination of obstacles,'" quoting Supreme Leader Ali Khamenei's televised New Year's address above a photograph from the event. On Nowruz 2020, by contrast, the top headline on Press TV had read, "Leader calls for 'jump in production' as Iran rings in new year."
A day later this year, Press TV led with yet another speech: "Ayatollah Khamenei: US must lift all sanctions before Iran returns to JCPOA commitments." While the supreme leader again "stressed that one of the most important steps to be taken for the promotion of domestic production was removal of the existing hurdles to production," don't overlook the What's Different in This Picture? challenge: the heavy drapes behind the leader, blue on Nowruz, were now green; not only was there an alternate photograph of his predecessor, Ayatollah Ruhollah Khomeini, it had moved from the drapery down to the table at Khamenei's side; and a smaller vase now held the bouquet of Mahdi-honoring narcissus there.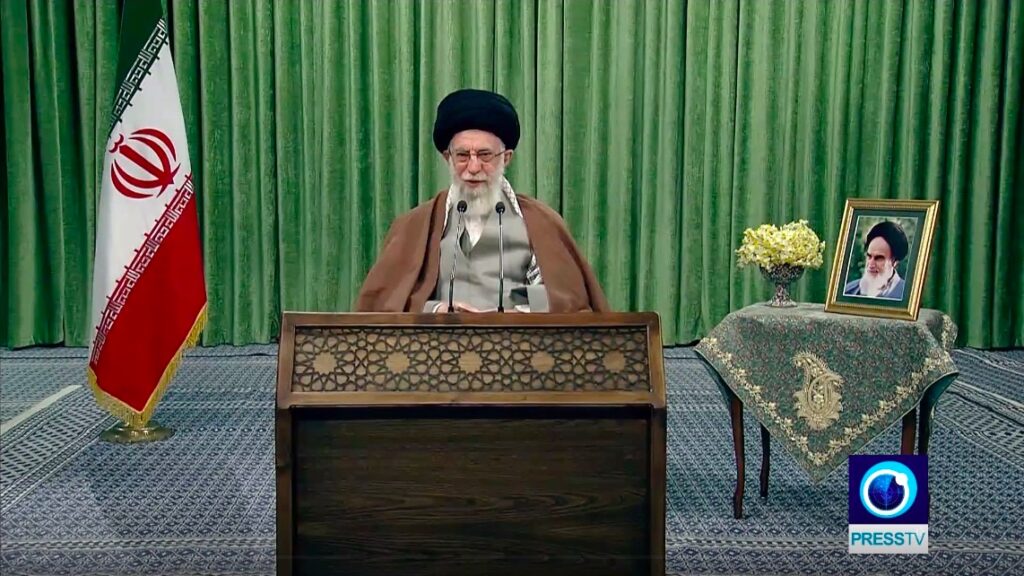 Whereas news involves the reporting of new and noteworthy information and propaganda involves communication meant to influence and persuade—a line habitually blurred by many self-identified news networks—Press TV seems most devoted to a third approach: boring its audience silly. This is Press Release TV.
If the service does have a clear communicative mission, it involves promoting stories in some way embarrassing to the United States and, especially, whoever occupies the Oval Office. President Biden's recent struggles in mounting the stairs to Air Force One have come in for particular attention: "Videos of the fall have been widely shared on social media, with hilarious memes poking fun at the president." Disappointingly, Press TV failed to share which memes it found "hilarious."
Early in March, the website awkwardly made much of the following: "A new poll shows that over 40 percent of Americans are not willing to get vaccinated for the coronavirus vaccine." The figure was misleading—a substantial share of that 40 percent had said only that vaccines should first go to those at greater risk—but there was a hesitancy widespread enough to be worthy of note. Over Nowruz weekend, Press TV brought a heavier hand to the topic with a featured story in the section of the website devoted to Iran's "terrorist" adversary: "Fierce COVID shot resistance could derail mass vaccination in US." Where there are multiple items of COVID-19 coverage on a daily basis from the United States—many of them copy-pasted from American sources—in recent weeks, the top 30 stories in Press TV's Iran section, stretching over the better part of a week, have rarely included more than a single item on the pandemic.
Branding itself as "Iran's first 24/7 international television news network that broadcasts in English," Press TV has not had a traditional television presence in almost a decade, since it lost its UK broadcast license in January 2012 for violating multiple communications rules—including airing an interview with a journalist imprisoned in Iran that was given under duress. Never a significant on-air presence in North America, it lost its fringe satellite access to the US and Canadian markets in early 2013. It still, however, streams programs 24/7 on its website, accessible across most of the globe.
The shows range from BBC-style daily global news programs (always with a special emphasis on shaming the US and Great Britain) to more locally focused programs such as Iran Today and Africa Today to more overtly opinion-oriented series such as The Communiqué, in which host Richard Medhurst invites on a different guest each week to bewail Western imperialism at epic length, and The Debate. In "Racism in the US," the Nowruz episode of this daily debate-free zone, a political organizer with the Black Alliance for Peace ("Hands Off North Korea!") and a professor of "Race, Ethnicity, Class, and Gender" managed to come to the mutual conclusion that the "US capitalist settler colonialist system and imperialist government" bears primary responsibility for the recent attacks against Asian Americans.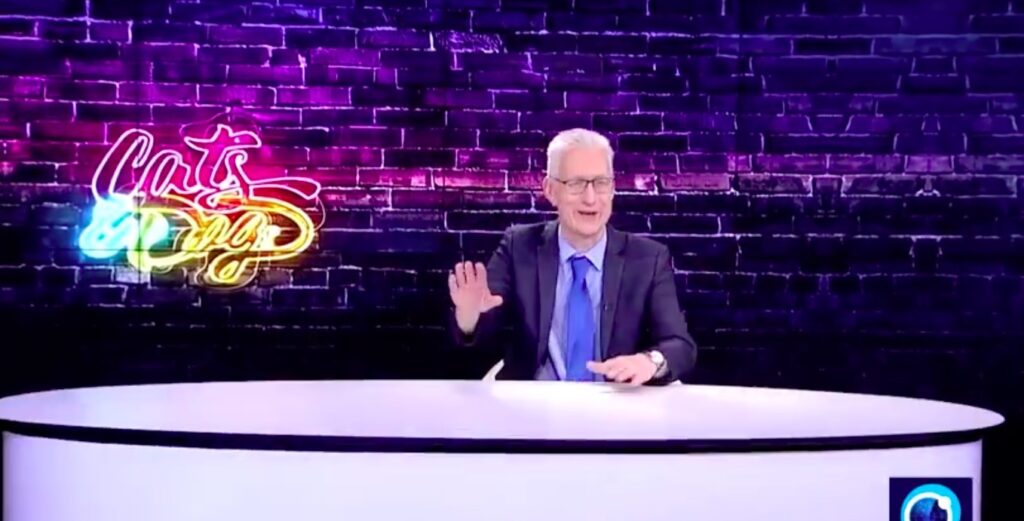 And then there's Press TV's lone attempt at comic diversion, the painfully cringeworthy Cats and Dogs, which makes a quarter-hour feel like a life sentence. In this show, which streams new episodes most Thursdays, Lembit Öpik, former chief of the Welsh Liberal Democrats, savages Western leaders (and still, gruelingly, a certain orange-hued ex-leader) with incomprehensibly limp stabs at humor to canned laughs from an audience, however patently nonexistent, he is ever desperate to engage with ("Thank you, thank you, thank you very much")—eternally forgiving of the fact that they're always invisibly, uproariously guffawing at all the wrong moments.
Incredibly, his special Nowruz weekend episode, in which Öpik purported to "explore the strange world of sexual misdemeanors from the Royal Air Force to distant relatives of the royal family," opened, uncommented, with Cats and Dogs' customary, inescapably catchy theme music of "Rock and Roll, Part 2"—composed and recorded by the '70s rock star born Paul Francis Gadd, currently serving a 16-year sentence for statutory rape, attempted rape, and multiple counts of sexual assault of girls as young as eight. Trust Press TV's version of the news or not, but trust it to stick with Gary Glitter.